Spring 2018 Essay Competition
($500.00 awarded to first place, $250.00 awarded to second place winner)
---
The spring 2018 scholarship is now open to current first year, or second year law school students. The award is based on students drafting an open memo, or brief, no longer than 5 pages in length, discussing the United States Department of Justices' investigation of either (1) Ferguson Missouri; (2) Baltimore Maryland; or (3) Chicago Illinois.
Essays should contain proper citations where applicable, and follow the formatting used by the Supreme Court for appellate brief submissions. Winners will be chosen primarily on (a) number of legal claims recognized, (b) possible remedies which can be provided to any aggrieved parties, (c) recognition of any international law violations (in addition to the proper venue to commence an action) and (d) any class action/constitutional claims which may be filed by African Americans living in those cities.

Essays should be emailed to: blacklawyersmattertoo@gmail.com by the deadline for submission which is February 21, 2018
The D.O.J. reports are attached as hyperlinks above and can also be accessed via their website directly
at:
https://www.justice.gov
Feel free to email us with any questions or concerns, and good luck!




Fall 2016 Book Scholarships
---


















Fiona Colin: "I came to law school because my cousin was beat up by the cops and was charged with a DUI and no one in our county wanted to help defend because they did not want to go against the police department. I wanted to help my cousin out and the only way to do that was to attend law school, become an attorney and defend him the right way. For the 2015-2016 school year I was on the Deans List. After law school, I plan on going back to my home state, New York, and try to obtain a job in public interest. I would like to obtain a job either at the Legal Aid office or the Public Defenders office. I specifically want to work in representing juveniles because they are often just thrown in the system without being heard."

Darrion Holloway: "I decided to go to law school after witnessing many of the injustices in our criminal justice system. I felt it was my duty to be a representation for the underrepresented and the voiceless. I believe, in our criminal justice system, everyone deserves a zealous representation no matter their race, socioeconomic class, or mental health status."
Darrion is also a member of the North Carolina Central Law Review, Volume 39- North Carolina Central Moot Court Board- Class of 2017, Class President- Trial Advocacy Board- Dean's List.
Post graduation he plans to work in the pubic interest sector. Specifically, as a public defender "representing our indigent population, who we often forget about. I believe it is important to force our criminal justice system to view people as human beings and not just criminals or bodies moving through the system."

Darius Holloway: "I chose to come to law school to help make a difference in the area of public interest. This was due to my dissatisfaction with the justice system caused by cases I witnessed while growing up. Often times I felt helpless watching, so I decided to do something that would put me in a position to be able to help."
Darius is on the Dean's list, Was the 3rd Place finisher at the Kilpatrick Townsend 1L Mock Trial Competition, and is also a member of the Biotechnology and Pharmaceutical Law Review.

Kelly Watson: "I came to law school to make a difference in my community. I am very interested in public policy and would like to become a politician in the future. I believe that being a lawyer will provide me with the essential tools needed to pursue this dream. Working within the realm of public policy will allow me to make the biggest impact because I will be able to propose policies that will help those in need. Although we have made strides, the African American community still has very little representation and I want to be a part of the generation that makes that change"
Kelly is a member of the Biotechnology & Pharmaceutical Law Review, Articles Editor Dean's List: As well as the winner of the Fall 2014, Fall 2015 Property Book Award (highest grade in the class). After law school Kelly plans to practice in an area that influences public policy.
Nicole Little: "I chose to enroll in law school because I wanted to become an advocate for my community, community often left out of the spotlight when it comes to legal advancements and discussions. By becoming an attorney, I can increase access to justice by acting as a translator of the law between my community and the courthouse and offering affordable legal representation to those that need it the most"



Nicole is president of the Student who receives the highest grade in a class).
Spring 2016 Scholarships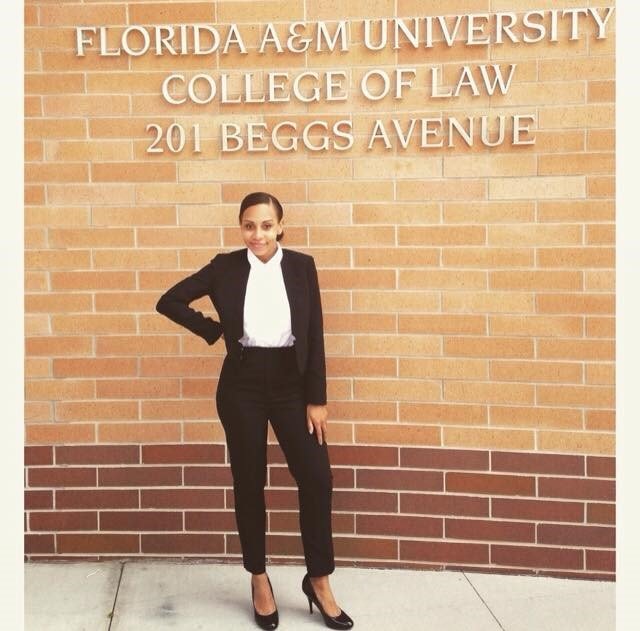 Brianna Lans is a third year law student, who traveled to Nicaragua, on a missionary trip this fall. Brianna's final portion of the travel expenses were covered by sales from the Black lawyers Matter™ T-shirts.








Claytrice Henderson, a third year law student, traveled to the United Kingdom for the summer 2016 semester on a study abroad mission. Claytrice received a travel donation towards her trip in goals of furthering the scholarship. Claytrice is not only an active student on the FAMU College of law campus she was also one of the first law students to wear the T-shirt.